By: Candice Heiden
Join me on the fast track to backwards
skating with some video tutorials I've put
together. Starting with the most basic
backwards skating position, anyone can
learn to skate backwards in just a few
easy steps.
This tutorial is the second lesson in a three-part series that takes you from no
backwards skating experience at all and will end at backwards cross-pulls.
Today's lesson, the backwards scissor!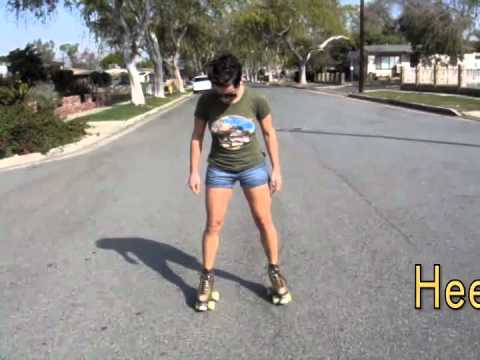 Here's how you can get started on Backward Scissors:
1. Master the Backwards Skating Position and Backwards Marching as shown in Backwards Skating Basics (Lesson 1)
2. Start in Basic Backward Position with TOES turned IN and HEELS pointed OUT
3. ROLL the heels towards each other in a half-circle formation, be sure not to let them touch together (or you will trip yourself)
4. Once they are close to one another start again in the Basic Backward Position with TOES IN and HEELS OUT and repeat Step 3.
** As with all roller skating moves: Keep good posture with your back straight, knees bent and head up.
Not only are Backward Scissors an integral step towards a Backwards Cross-over, they are also an excellent inner thigh exercise when executed correctly! Be sure to check out more roller skating fitness benefits.
Related posts: